Welcome to Discover Integrated Health, Home to Your Kennesaw Chiropractor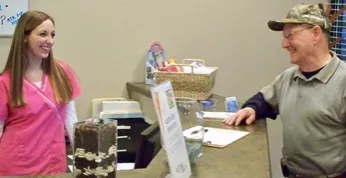 Discover Integrated Health always welcomes new patients. Our Kennesaw chiropractors, Dr. Craig Gruber and Dr. Angelo Ferrari, have provided professional chiropractic care, as well as full rehabilitation services, for over 23 years. The first question most new patients ask is how they can pay for our services. Although coverage for seeing a chiropractor varies, depending on your individual insurance plan, here are a few helpful insights:
Medicare - Discover Chiropractic accepts assignment from Medicare, and will complete and file the necessary forms for you. Although your case may require additional rehabilitative services, Medicare generally only provides payment for manual manipulation of the spine. Medicare currently pays for 80% of the allowable fee, once your deductible is met. They will send a check directly to our office for the covered amount, and you will be required to pay the deductible and the remaining 20% as well as any non-covered services.
ChiroHealthUSA - To make our services affordable for more patients, Discover Chiropractic is a member of ChiroHealthUSA. This program provides discounts on many chiropractic expenses, and you might be able to use it to help cover costs which are not normally covered by a major medical health insurance policy.
Legal Cases - When you visit our office for treatment after a personal injury accident or auto accident injury, please notify our insurance department if an attorney is representing you, so our team can work with your attorney and insurance company to provide documentation in support of your injury claim. Our chiropractors will also work with your orthopedics and medical doctors to present a comprehensive case.
Insurance Cases - If you are seeking care as the result of an auto accident injury, please notify your auto insurance carrier of your visit to our office immediately. Although you are ultimately responsible for payment of our bill, we will wait up to six months after care is completed for settlement of your claim. Once the claim is settled, or if you suspend or terminate care, any fees for services provided are due immediately.
Prepare for Your First Visit With Our Kennesaw Chiropractors
During your first visit to Discover Integrated Health, our Kennesaw chiropractors will take the time to listen to your concerns, explain how chiropractic care works, and perform a full evaluation to determine if our chiropractic solutions are a good fit to address your needs. Some things you can do to make your first visit easier include:
Visit our website to learn more about the services we provide.
Complete your required information forms: Before seeing our chiropractor, you will need to complete a New Patient Health History Form. If you are seeking treatment for an auto accident injury, you will also need to complete an Automobile Accident History. Both forms are available on our website.
Contact Your Kennesaw Chiropractor Today!
Call Discover Integrated Health today at 770-285-5652 and schedule a complimentary new patient consultation. We look forward to hearing from you!